BLACKCOMBE KENNELS
rottweilers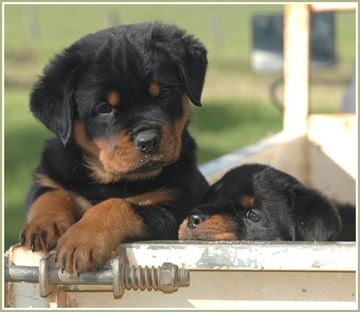 Rottweiler Puppies
We are planning litters from Blackcombe La Boheme who will be bred in October 2023 and Ch Blackcombe Time Traveller in early 2024.
Please keep up with progress on this on our FB page or check back with us!
My Philosophy on Breeding Pure Bred Rottweilers:
I'm firmly of the opinion that it must always be quality before quantity; so I don't breed to satisfy current 'trends' or 'fashion' in the rottweiler world. Instead, I stick to what I believe is the correct type of rottweiler, and work to breed dogs that are as true to the standard as possible. As a result, things like mouth pigment and correctly shaped dark eyes and overall balance are very important to me.
Very few of my puppies go into show or breeding homes. Hence, whilst confirmation is central to our approach, ultimately, my goal is to produce a happy, healthy, quality Rottweiler that can provide years of enjoyment to the families that come to me.
Certainly, I invest in good breeding stock, as can be seen from the number of imports I've brought to Australia from Germany, the USA, New Zealand and Norway, but more importantly, I put time as well as money, in the pursuit of quality in each litter bred. Consequently, all of my puppies receive the same care and attention irrespective of whether they are purchased as family pets or breeding and showing stock.
Typically, my puppies are priced at $4500.00 and are registered with the Australian National Kennel Council (but not for breeding or showing). If you are looking for a Rottweiler for conformation showing or breeding, then these puppies do cost more and I'm happy to discuss these options with you personally in those circumstances. I do also occasionally have older puppies and adults available and there are often advantages to owning an older Rottweiler, especially if you (like me) are busy and may not have the time available to raise a young puppy. In these cases, it's a great benefit to have a dog that may well have already received some foundation training and has some experience with the world.
 When you take home a Blackcombe Rottweiler, you will receive:
 – Informative puppy book – filled with information on raising, feeding and training your Rottweiler. We also include copies of all health clearances for the dam and sire and our sales agreement / guarantee.
 – ANKC registered pedigree in the buyer's name(s)
– Vaccination and worming certificates
– Microchip registration
 Most importantly, when you buy a Blackcombe Rottweiler, you will benefit from our support for the life of the dog – I'm only a phone call or an email away irrespective of where I may be in the world.
Contact Blackcombe
I'd love to hear from you.
Professor Roberta Crouch, Adelaide South Australia, Australia Phone: (61) 404833924